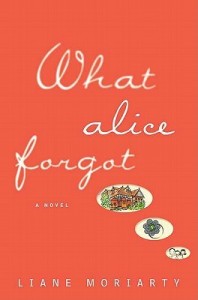 For our virtual book club this month, we're talking about What Alice Forgot by Liane Moriarty, which I introduced here.
Here's how it works: I'll throw out a few topics for discussion, and you can write your responses about these topics (or anything else you'd like to say) in the comment section.
Discussion #1: Seriously Funny
When I read the premise for this novel, I assumed it would be a light read—and something that had been done before. (Really, publishing world? Another mom-lit book? And does the world really need another amnesia story?) But enough people recommended it to me that I finally succumbed.
My friends were right: this book has substance. Although it has light, funny moments, it also tackles some weighty themes (such as infertility, waning love, and complicated friendships). But perhaps the biggest takeaway for me was this haunting question: What would the younger me think of the person I've become?
What did you think of the tone of the book? Did it make you laugh? Did it make you think?
Discussion #2: A Form of Time Travel
Here's what the author says about coming up with the premise for this novel:
I had always wanted to write a story about time travel but I found the logistics made my head explode. Then I read a story about a woman in the UK who lost her memory and behaved like a teenager—she didn't recognize her husband or children. I realized that memory loss is a form of time travel. Alice loses 10 years of her memory. She thinks she is 29, pregnant with her first child and blissfully in love with her husband. She is horrified to discover she is 39, with 3 children and in the middle of a terrible divorce. It's like the younger Alice has traveled forward in time.
What would the ten-years-ago you have been surprised to discover about the current you? What would your younger self think about the life you are leading now?
Discussion #3: The Role of Memory
The theme of memory is central to this book. Without a decade of memories, Alice is left to piece together what happened in her relationships. In some ways, this lack of memory leaves her at a distinct disadvantage. But in some ways, forgetting may have also saved her marriage.
Each memory, good and bad, was another invisible thread that bound them together.
How important do you think are memories to a relationship? Is it possible to keep a relationship strong without remembering the history you share with another person?
Discussion #4: A Second Chance
Although this story has the added drama of amnesia, it isn't so different from what most marriages and other close relationships face. We change and we stagnate; we remember and we forget; we hurt and we forgive; we love until we can't love anymore, and then we love some more.
Early love is exciting and exhilarating. It's light and bubbly. Anyone can love like that. But after three children, after a separation and a near-divorce, after you've hurt each other and forgiven each other, bored each other and surprised each other, after you've seen the worst and the best—well, that sort of love is ineffable. It deserves its own word.
What do you think caused Alice's relationship with her husband to fall apart? Do you think it's possible to start over and get another chance when a relationship seems broken beyond repair?
I would give this book four stars (out of five). It was an entertaining read, but what I appreciated most was the way it stuck with me and prompted self-reflection about my own life.
How many stars would you give this book?
{Remember: I'll give a free book to one lucky commenter!}